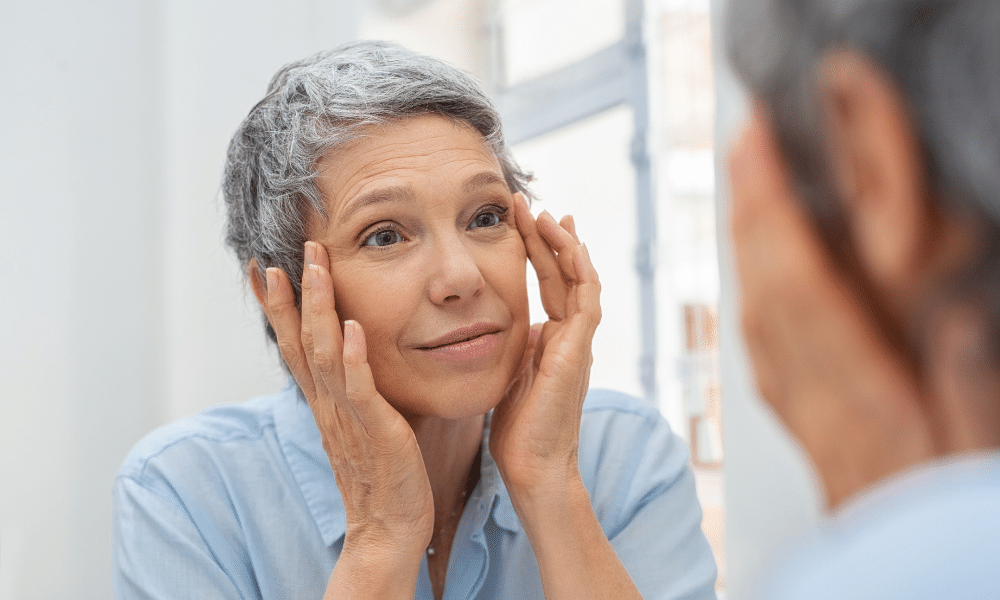 Wrinkles and Firmness: Using clay for anti-aging beauty
Known as "Beauty by Earth", the benefits of clay have been recorded from time immemorial. Clay could be used as a beauty mask, placed into bathwater to soften skin, or as a poultice to heal aching joints. It contains multiple compounds that aid in beautifying and regulating skin.
However, did you know clay may also be the key to youth?
Being an expert in natural and organic cosmetics for 50 years, Cattier has used its knowledge of clay to develop an anti-aging skin care line.
What is the secret behind the new "Wrinkles & Firmness" line ? The combination of several exceptional active ingredients such as the Micronized surfine green clay contains a mix of illite, montmorillonite and kaolin which have a very fine grain size. This repairs skin by stimulating collagen production while offering a soft touch. An added compound of skin-perfecting bentonite and silica provides a smoother skin texture and more luminous complexion by helping the skin recover and protecting it from the stress of daily life.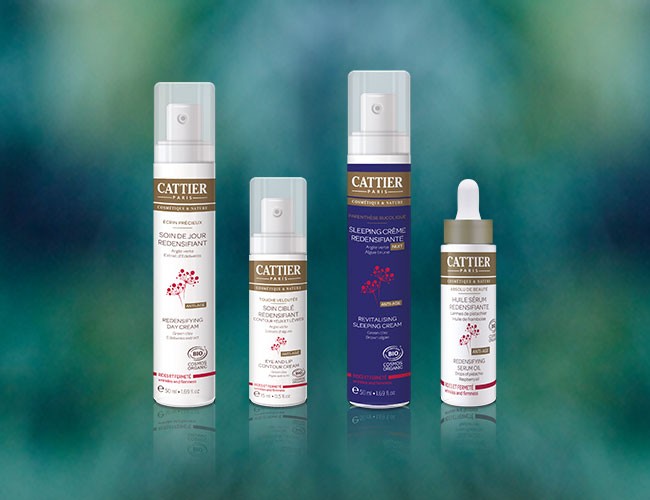 Skin aging and hygiene :
The skin's ecosystem is constantly under attack by pollutants when exposed to our environment. Eighty percent of skin aging is caused by: the sun, air pollution, stress, lack of sleep, and tobacco use. In order to alleviate aging after the first wrinkle's formation a specific skin care routine must be adopted.
Innovative products to enhance beauty :
The Wrinkles & Firmness line is the result of innovative and effective components. The combination of revitalizing marine actives, regenerating oils, fruits and smoothing flowers offer a true, youthful cure for your skin. Through a total care protocol based on four steps, your skin will regain a new-found youth.
1. Hydrate
In the morning, hydrate and protect the skin with the Redensifying day cream "Ecrin Précieux". Green clay combined with brown algae edelweiss extract and cherry will stimulate cell regeneration and collagen production in order to fills wrinkles and restores facial shape. Also composed with an anti-pollution and anti-blue light actives, the skin will be protected against environmental stressors all day long.
2. Smooth
Eye and lip contours are not to be overlooked. Finer than the rest of the face, skin around the eyes and lips have special needs and are the areas where wrinkles most often appear. The day and night cream, "Touche Veloutée" eye and lip contour cream acts as a firmness and anti-aging concentrate. Its combination of red and green algae decongests and reactivates microcirculation. This process results in a fresher look by smoothing and filling expression lines.
3. Regenerate
Nighttime is the time for cellular repair and a key moment for achieving healthy skin and fresh radiance. During this time, the skin is more permeable, that's the reason why it is the best moment for activating skin regeneration. Containing innovative actives such as green clay, brown and Kombu algae, cherry and edelweiss extract, the Revitalizing sleeping cream "Parenthèse Bucolique" provides intense hydration and universal anti-aging protection. The synergy of these actives neutralize the oxidative stress that is responsible for skin aging. This step promotes radiant complexion upon waking, while smoothing and reviving the fine lines.
4. Stimulate
The final step to complement the day and night care is the Redensifying serum "Absolu de Beauté". A combination of rare and valuable oils (raspberry, avocado, macadamia, jojoba, and pistachio) strengthen skin elasticity and firmness. This is the ultimate step to total anti-aging skin care. The concentrations of omega 3, 6, and 9 will act as a booster to revive collagen synthesis and tone the skin. Hydrated and relaxed, lines are smoothed and natural radiance is revived.
Certified Cosmos Organic, this new line from Cattier contains 97% natural ingredients, 20% of which are sourced from organic farms. Our goal is to promote organic beauty, natural, respectful and successful for everybody.