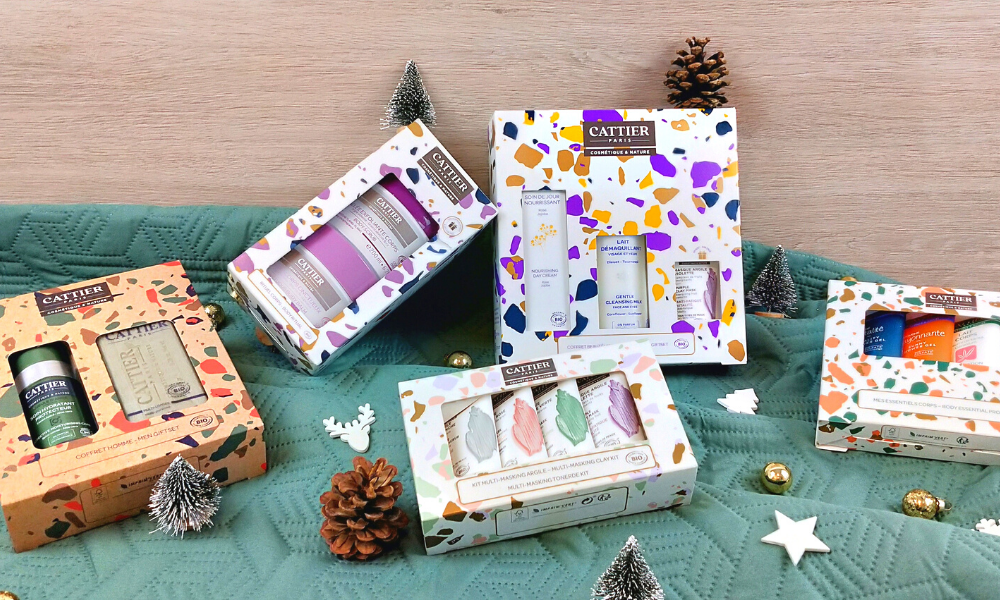 The end of the year often rhymes with fatigue, stress, mental burden, so what would you say to offering your loved ones a moment of well-being and relaxation for Christmas? With our organic and responsible gift sets, there is a gift for every personality. And the good thing is that there is something for every budget!
Which well-being gift set for a moment worthy of a day at the spa?
The Body Ritual set will be the perfect gift to offer to your mother or your companion if she needs to take care of herself and pamper herself! It is composed of an exfoliating body jelly that turns into a creamy milk on contact with water, a body balm perfect in winter to repair dry skin and a small shea butter, 100% organic and multipurpose, with repairing, anti-drying and protective properties.
All this in a pretty box with terrazzo motifs for 25,95€.
Your budget is limited? Opt for our clay multi-masking set at 7,95€ composed of our new clay care products in 30ml format for a personalized beauty ritual. It includes a white clay scrub that gently exfoliates the skin of the face and neck, a green clay mask to purify the T-zone, a pink clay mask to soothe sensitive areas and a violet clay mask to brighten the complexion.
Which set will you choose to introduce your loved ones to Cattier?
Your sister/girlfriend/friend/mother doesn't know Cattier? There's nothing like a box to introduce her to our organic and committed brand.
Are you more of a face care product? Offer her one of our Beauty Face sets, composed of a day care, a cleansing milk and a mini clay mask for a global care: the Beauty Face set with a terrazzo pattern for 25,95€.
More of a body care product? The My Body Essentials set is an assortment of mini darling products: 2 sulfate-free shower gels, 1 nourishing body milk and 1 hand cream. Its low price of 9.95€ will convince you, right?
Which set for the men around you?
Composed of a moisturizing care Gueule d'Ange and a soft soap with clay, this nice masculine and trendy box will make your companion, your dad or your brother happy! All for the low price of 14,95€, perfect no?

The advantage of our boxes? They are eco-responsible: the packaging does not contain plastic, the cardboard box is FSC certified (respectful of forests) and Imprim'vert labeled (vegetable oil based inks, respectful of the environment).

Are you looking for a small gift for less than 10€?
Choose between our 3 kits:
Moisturizing kit composed of a lip care and a hand cream
Nourishing kit composed of a mini shea butter and a hand cream
Anti-aging kit composed of a lip care and a hand cream specially adapted to mature skins
With all these gift ideas, our little finger tells us that your loved ones will be spoiled! We wish you all a very happy holiday season!
The Cattier team